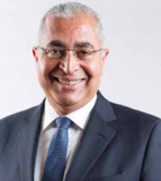 Mr. Hisham Sanad
Non-Executive Board Member
Hisham Sanad joined Banque du Caire as a Non-Executive Board Member on 1 March 2018.
Eng. Hisham is the Chairman and CEO of egabi Solutions. He co-founded egabi Group in mid-2006. egabi Solutions is a leading IT Solutions & Services Company with regional coverage across a number of subsidiaries and branches in Egypt, Saudi Arabia and the UAE; as well as a technical training company and a specialized company focused on the delivery of dedicated technology solutions and services to the Banking and Financial Services sector.
Eng. Sanad's experience extends over more than 30 years in the IT services sector supported by vast business and organizational planning skills. In addition to expert knowledge of the regional markets, various economic sectors and the services provided by the ICT sector.
He is a Board Member of the Technology Development Fund (TDF). He is a former Board Member and former Chairman of the Chamber of Information Technology and Communication - CIT; former Board Member of the Information Technology Industry Development Agency (ITIDA) - the executive IT arm of the Ministry of Communications and Information Technology. Eng. Sanad is a member of the American Chamber of Commerce and a member of the Information and Communications Systems Division in the Chamber.
He was the Managing Director of Raya Software and Raya Regional Services, the General Manager of Raya Integration, and the General Manager of STS (Solutions and Technology Services).
Eng. Sanad holds a BSC with honours in Electronics & Communication Engineering from Ain Shams University. He is a graduate of the Strategic Executive Leadership Program at Harvard Business School, USA in 2004.