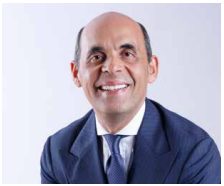 Mr. Tarek Fayed
Chairman and Chief Executive Officer
Holding the position of Chairman and CEO at Banque du Caire, with over 32 years of banking experience in a variety of fields, including but not limited to banking supervision, risk management, and corporate and investment banking.
Mr. Fayed is currently a board member of; the Egyptian Banking Institute, Social Fund for Mortgage Finance, Egyptian Stock Market, Union of Arab Banks, Credit Guarantee Company (CGC), Cairo Leasing Company (CLC) General Assembly Egyptian Holding Company for Aviation, and Federation of Egyptian Chambers of Commerce.
Prior to his tenure with Banque du Caire, Mr. Fayed spent 10 years working for the CBE, he has overseen several departments, including but not limited to off-site supervision, licensing, and macroprudential supervision. He shifted the supervisory framework from a compliance to a risk-based approach and introduced new supervisory tools, such as early warning and stress testing. He also participated in the introduction of a large range of prudential regulations including Basel Standards.
Additionally, he established Egypt's 1st financial stability report in 2016 and was also a part of the CBE negotiation team with the IMF to facilitate Egypt's economic reform program in 2016.
He represented the CBE in regional and international organizations; The Arab Monetary Fund Financial Stability Working Group, The Islamic Financial Services Board, African Trade and Development Bank, General Assembly of the Egyptian Electricity Authority, and he was a member of the National Committee of Refund of Funds. He also represented the CBE as a non-executive director for a number of financial institutions as part of its transformation; the Agricultural Bank of Egypt, United Bank, and Arab International Bank.
Prior to his tenure with the CBE, Mr. Fayed was the General Manager and Chief Risk Officer at the Arab International Bank in Cairo. Mr. Fayed worked at Samba Financial Group in Riyadh, KSA as the Audit Director.
Mr. Fayed also held a post at Citibank Egypt in both Cairo and Alexandria as Corporate Bank Head, where he navigated the corporate banking strategy in line with the Bank's overall growth plan and developed marketing plans for the segment to grow its market share.
Mr. Fayed holds a BA in Commerce from Ain Shams University, in addition to various certifications in Credit and Risk Management. He also led and attended numerous study tours and seminars with supervisory bodies and international institutions, such as the Federal Reserve, European Central Bank, Bank of England, Deutsche Bundesbank, and Bank for International Settlements.