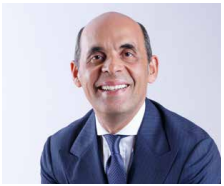 Mr. Tarek Fayed
Chairman and Chief Executive Officer
Currently holding the position of Chief Executive Officer and Chairman at Banque du Caire, Mr. Tarek Fayed has more than 30 years of experience in a variety of fields, including but not limited to banking supervision, risk management, and corporate and investment banking. Prior to his time with Banque du Caire, Mr. Fayed spent 10 years working with the Central Bank of Egypt (CBE), where he held the positions of Sub-Governor and Assistant Sub Governor, working on banking supervision and with the licensing and central credit registry. During his time with the CBE, he successfully shifted the supervisory framework to one based on risk assessment and drove a strategy to restructure and upgrade the CBE's individual units to align them with international best practices and Basel requirements as well as develop risk-based early warning tools such as stress testing and rating models that allowed the bank to efficiently and swiftly mitigate risk. He also established a management information system unit to develop and upgrade the reporting system within the bank and set up a corporate borrowers unit to aid in the early detection of weaknesses in large corporate exposures.
Mr. Fayed represented the CBE in at several regional and international organizations such as the Arab Trade Financing Program, the Financial Stability Working Group of the Arab Monetary Fund, PTA Bank, the financial arm of the COMESA Group, and the Technical Committee of the Islamic Financial Services Board (IFSB) of the International Monetary Fund.
Prior to his tenure with the CBE, Mr. Fayed was the General Manager and Chief Risk Officer at the Arab International Bank in Cairo, where he also held a position on the bank's Audit, Risk, and Steering Committees. During his time with Arab International Bank, he established a Risk Management function that covered credit, market, liquidity, and operational risk in line with international best practice and created units for credit risk analysis and credit risk control as well as an operational risk framework for identifying, measuring, and monitoring operational risk. For two years prior, Mr. Fayed worked at Samba Financial Group, an affiliate of Citigroup, in Riyadh, Saudi Arabia in the position of Audit Director, where he managed all aspects of audit reviews in accordance with audit and risk review standards and developed advanced approaches governing the division.
Mr. Fayed also held a post at Citibank Egypt in both Cairo and Alexandria as Corporate Bank Head where he navigated the corporate banking strategy in line with the bank's overall growth plan and developed marketing plans for the segment to grow its market share. Prior to this, he was Resident Vice President at Citibank for two years, establishing business plans, enhancing cross selling, and growing the bank's market positioning while managing a number of large private sector economic groups and public sector relationships.
In addition to his current role at Banque du Caire, Mr. Fayed currently serves as an Executive Board Member of I-SCORE and holds membership positions on the boards of the Credit Guarantee Company (CGC) and the bank's leasing subsidiary Cairo Leasing Company (CLC).
Mr. Fayed holds a BA in Commerce from Ain Shams University in addition to various certifications in Credit and Risk Management.