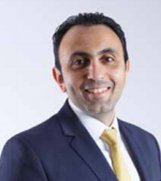 Mr. Wael Zeyadah
Non-ExecutiveBoard Member
Wael Zeyadah was appointed as a Non-Executive Board Member in Banque du Caire on 1 January 2018.
Mr Zeyadah is the Chairman of the Board of Directors and Managing Director of Hermes Finance Group. He is responsible for the vision and the executive plan of Hermes to venture into the field of non-banking financing with the aim of diversifying the sources of income and reducing dependence on the volatile money market sectors.
Mr Zeyadah has established the Hermes Finance Group Leasing Company which was able in less than two years since its establishment to have leased assets worth more than LE 1.5 Billion and to be rated as one of the five largest leasing companies in Egypt. He also contributed to the acquisition of Tanmeya Company for Financing Micro Projects and restructuring it to become part of Hermes Finance Group.
Mr Zeyadah has more than 15 years of experience in money markets in the Middle East. He was head of the Investment Research Sector in Hermes Group Holding Company from 2008 to 2014. He completely restructured this department. The department issued research reports on 140 companies listed in Arab Stock Exchanges. It also issued economic reports on the largest ten countries in the region as well as strategic reports covering various investment fields, including investment strategies and flows of international investment funds. It also released two of the largest and most accurate and reliable stock indexes in the Arab world.
He succeeded in assessing and promoting several Initial Public Offering (IPO) deals, most important of which were Vodafone Egypt, Emaar Malls Group. Talaat Mostafa Group, Telecom Egypt, Palm Hills for Real Estate Marketing, the Arabian Cement Company; and promotion of the first real estate investment fund in the Arab world, the Emirates Real Investment Trust (Reith).
Mr Zeyadah was the financial analyst in the Research Sector of Hermes Finance Group from 1999 until December 2003; he was Head of the Communication Sector Research Department in the company from 2004 until December 2007.
He holds a Bachelor's Degree in Economics from the American University in Cairo in 1998.