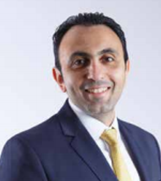 Mr. Wael Ziada
Non-Executive Board Member
Mr. Wael Ziada was appointed as a Non-executive Board Member on 26 September 2017.
Mr. Ziada has over two decades of experience in money markets in the Middle East and is currently the Founder and Executive Chairman of Zilla Capital for Investments, a regional private investment company and a board member of various entities, both financial and non-financial.
Prior to that, Mr. Ziada was the Executive Chairman and CEO of EFG Hermes Finance and a member of the Executive Committee of EFG Hermes Holding. He was responsible for the vision and the executive plan for EFG Hermes to venture into the field of non-bank financing to diversify revenue streams and lower dependence on volatile money market sectors. He was also head of EFG Hermes' award-winning and internationally recognized research division from 2008 to 2014.
Under his leadership, the department underwent a significant turnaround that witnessed its coverage expanding to more than 12 countries with output expanding threefold and its services offered over digital platforms.
He succeeded in assessing and promoting several initial public offerings, the most important of which were Vodafone Egypt, Emaar Malls Group, Talaat Mostafa Group, Telecom Egypt, Palm Hills for Real Estate Marketing, the Arabian Cement Company, and the promotion of the first real estate investment fund in the Arab world-the Emirates Real Investment Trust (REIT).
Mr. Ziada holds a BA in Economics from the American University in Cairo.