Trade & Supply Chain Finance
Unlimited Export Opportunities
Aiming to reach new markets/ new buyers?
Do you want to grow your export market and revenues?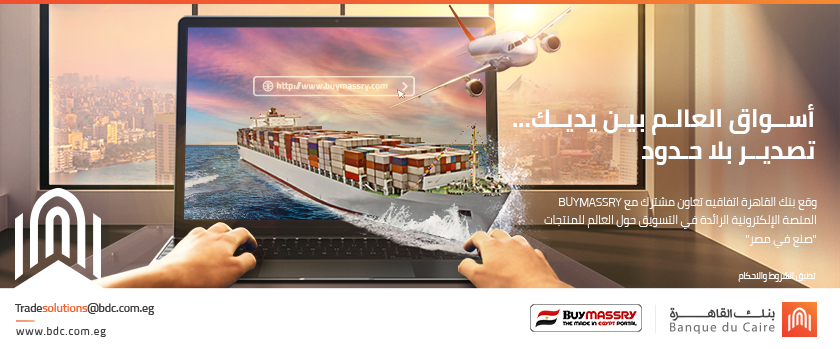 Banque du Caire has partnered with Buymassry.com, to bring you a state-of-the-art multi-vendor platform that allows you as an Egyptian manufacturer to join a worldwide online marketplace
Buymassry connects international buyers from around the globe looking for Made in Egypt Products with world-class Egyptian manufacturers and exporters. Register your company now by clicking on this link
If your goal is to improve working capital, to self-fund growth, to reduce debt or expand business across a wide range of products; GTB offers the following:
Trade Finance services (L/Cs, L/Gs and Documentary Credits)
Back-to-Back / Transferable Credits / Revolving Credits
Discounting and Forfeiting (ECAs covered)
Payables and invoices financing schemes
Receivables finance
Pre- and post-shipment financing
Trade loans
Commodity Finance structure, including both physical and constructive control funding
Mechanisms financing against closed warehouse receipts or bills of lading possession
Local Letters of Guarantees and Counter Guarantees
Benefits of Effective Trade Products:
Receivables finance solutions improve working capital for self-funded growth to help customers unlock funds trapped in inventory or receivables to keep the supply chain moving forward.
Export finance – pre- and post-shipment finance supporting customers for improving their cash flows and manage risks associated with international trade.
Import finance solutions offer flexible options for managing working capital. Improving cash flow by bridging the gap between settlements with suppliers and payments from buyers.
Working Capital and Supply Chain Finance
Working Capital & Supply Chain funding solutions:
Through our wide range of products and dedicated specialists, will support your business focusing on increasing the efficiency of transactions and payment terms to reduce the cost of funding – both for your organisation and for your suppliers.
Our solutions help increase liquidity in the supply chain and reduce the risk inherent in trade flows, offering these funding solutions:
Receivables finance
Suppliers finance
Invoice / Contracts finance
Post & Pre shipment financing schemes