Internet Banking - Mobile Banking
Now With BDC online, you can enjoy a wide range of banking services easily and safely 24/7 from anywhere you go!
View your accounts
Detailed view of all BDC accounts "Current, Saving, Time deposits, certificates of deposits".
View detailed transactions on your accounts.
Monitor your Deposits and certificate's maturity dates, tenor and interest rate.
Access to all your loans and financing details.
Know your IBAN number for your accounts.
Easy move your money
Transfers between your own accounts.
Transfer to other BDC customers.
Transfer to other banks inside Egypt in Egyptian currency with Account or IBAN number.
Transfer to Qahera cash Wallet or any other wallets in Egypt.
Pay any other bank's credit cards.
Credit Card
Check credit card details
Know your total amount used, available balance, and the minimum balance required
Settle your BDC credit card on spot
Pay any other banks credit cards
Block your card if it has been lost or stolen.
Register in E-statement service
Other services
Activate your Token easily through self –serve portal
Apply for cheque book request
Check the latest updates in currencies exchange rate
Locate Banque du Caire Branches & ATMs all over Egypt
Securely transfer your money
BDC Soft token is the latest security technologies, a onetime password that is issued by BDC soft Token which is available for IOS , Android and Hawaii smart phones
With our BDC token solution, we can
Provides you with a safer Internet Banking & Mobile App experience
Create a Onetime Passcode for transfers & create Payees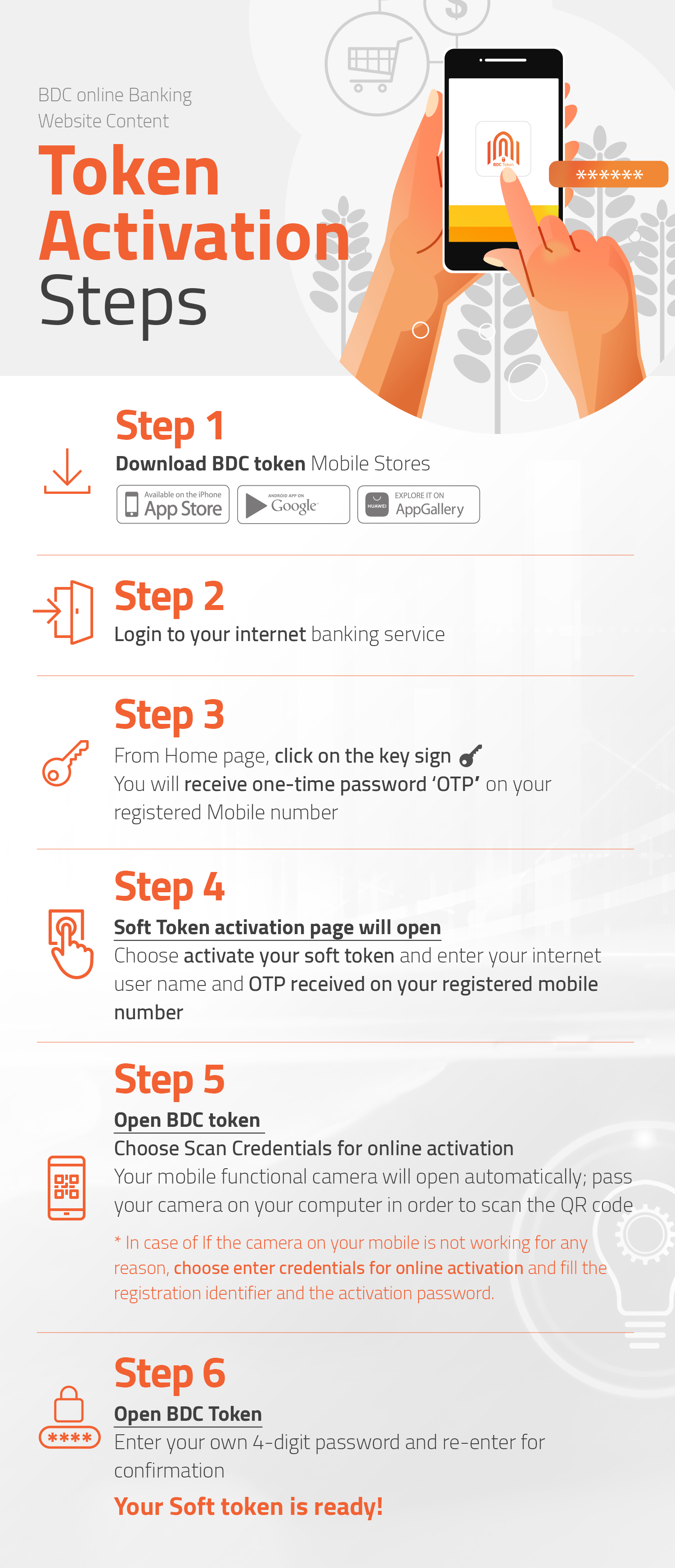 You can register yourself through online banking platform or BDC mobile application, just follow the steps and fill in the required fields to access the service in no time.
Visit the nearest branch to update your personal information and subscribe to online services.
Fill in the subscription form and obtain your username.
A passcode will be sent to your registered mobile in the registration form.
BDC Mobile Banking Application
With BDC Mobile banking application
Do your banking easily and safely anywhere 24/7
Free download of the BDC online mobile application from the mobile stores
Download from here
Just login by using the internet banking " username "& " password " and enjoy the online banking services